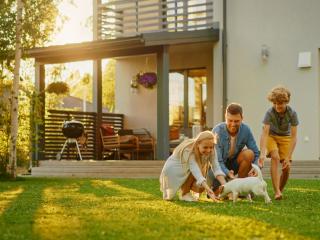 A standard homeowners insurance policy covers your house, its contents, your liability, and additional living expenses.
In the event your house is damaged by a covered peril (cause of loss), your homeowners policy will pay to repair or rebuild your house, pay to replace your contents (up to policy limits), protect you in the event of a liability claim against you, as well as reimburse you for expenses incurred due to a loss. On most homeowners policies, there are 6 basic coverages included.
Coverage A: Dwelling- This is the physical house itself as well as connected buildings/structures.
Coverage B: Other Structures- This coverage pays for buildings not attached to the house. This may be a shed, fence, detached carport, or other structures.
Coverage C: Personal Property- This coverage covers your contents. This is everything from clothes to furniture to applicances. If you were to move, what would you take?
Coverage D: Loss of Use- If you had a loss at your house and had to move into a hotel or short term rental this would reimburse you for that. This coverage is for additional living expenses incurred during a loss.
Coverage E: Liability- This coverage is viatally important. Your liability protection covers you in the event someone is harmed on your property. Most common scenario people think of is a dog bite (many companies now excluded dog coverage for certain breeds) or someone falls at your house.
Coverage F: Medical Payments: This covers medical bills in the event someone is injured on your property.